THE POLITICAL-MASS MEDIA CULT OF SELF PROMOTION:
"SPIN AND SUPERFICIALITY"
Yesterday, we noted how the fashion of posting innocent "selfies" to a Facebook page has come about in the aftermath of a world-wide effort to transform universities into enterprises of intellectual self-promotion. My intention is not to identify in mechanical terms some "causal link" – the 1980s reform to Australia's university system > the 21st century's unleashing of unbridled narcissism – but rather it is to draw attention to how genuine political education has been made more complex by the impact of neo-liberal managerialism upon science and scholarship.
But it is true that our lives will continue to be filled with inner tension and outer turmoil when public life is dominated by the mercantile foolishness that presumes "success" must be any person's "chief end". We do not need a PhD thesis in psychology to be able to see that for the recently elected President of the United States of America, personal "success" is his chief end. It is about orchestrating things by making demands, and to keep on doing so, until he gets his own way. His Twitter tweets are also warnings to those standing in his way now that he has reached the top. (Consider his Tweet this week to the sacked FBI Director. I would have thought that was a "bullying threat" but I haven't seen Twitter cancel his subscription, at least not yet.) The current aim of the incumbent of the White House is to supersede any threats to his "success" by his "success" and his tweets are made with that in view. The road to "success" and then, having achieved his goal, the path he is on demands that he put into action the plans he has already devised for dealing with competitors, those who, by their "success", stand in the way of his getting his way.
Still, when all of life is characterised by "success" then one will become aware of a reality that has to be mastered by making many steps, each requiring a mini-success along the way – large and all-embracing goals are achieved by many small and limited successes that accumulate as one's life goal is attained. In all this, the important thing is to gain one's self-respect, and to do in a way that ascribes status to oneself by achieving one successful project after another …  and so by mastering the Facebook subscription and launching a first "selfie" one is simply taking the first small step on the path of self-promotion, artfully cutting a deal for oneself, incessantly demonstrating that one is successful and not to be messed with. A public ethic of "success first for me" is also inevitably to announce a threat to any who might "get in the way". It is also a personal self (if not selfie) discipline.
Consider how the respectful and respected youthful Barack Obama gained "top job" after his "game changing" method of connecting his bid for the Presidency to what is now known as "crowdfunding", support gained by an appeal for funding, an initiative launched from "social media". The man who wanted to take his place once Obama's time had expired, watched all this very carefully and decided he knew how he could gain "top job" by successfully learning the lesson and taking social media one step further … the trick was to develop a technique that would not just gain sufficient support to gain office but one that would enable him, so he thinks, to maintain support once he gained what he decided he had to have. The "top job", he concluded, was there for the taking, and surely the country needed him to take it – and so he proceeded via his Twitter account to send out that message.
 The ambiguities begin to pile up. Is this an approach to political life that can be sustained? Now that the US President has endorsed a particular use of Twitter, going one-step further than Barack Obama's "crowdfunding" technique, to garner public support, what is the next step? Where is this development taking us? We may need to think long and hard about this and also reflect upon the uncertainty we have about the answer to that question – if we have one. Does it not remind us of the crisis in which western democracy is now floundering? Does it not confirm to those besotted with Twittered politics that we no longer have a clear idea about the political party's task?
And of course the US President is by no means the only politician using Twitter.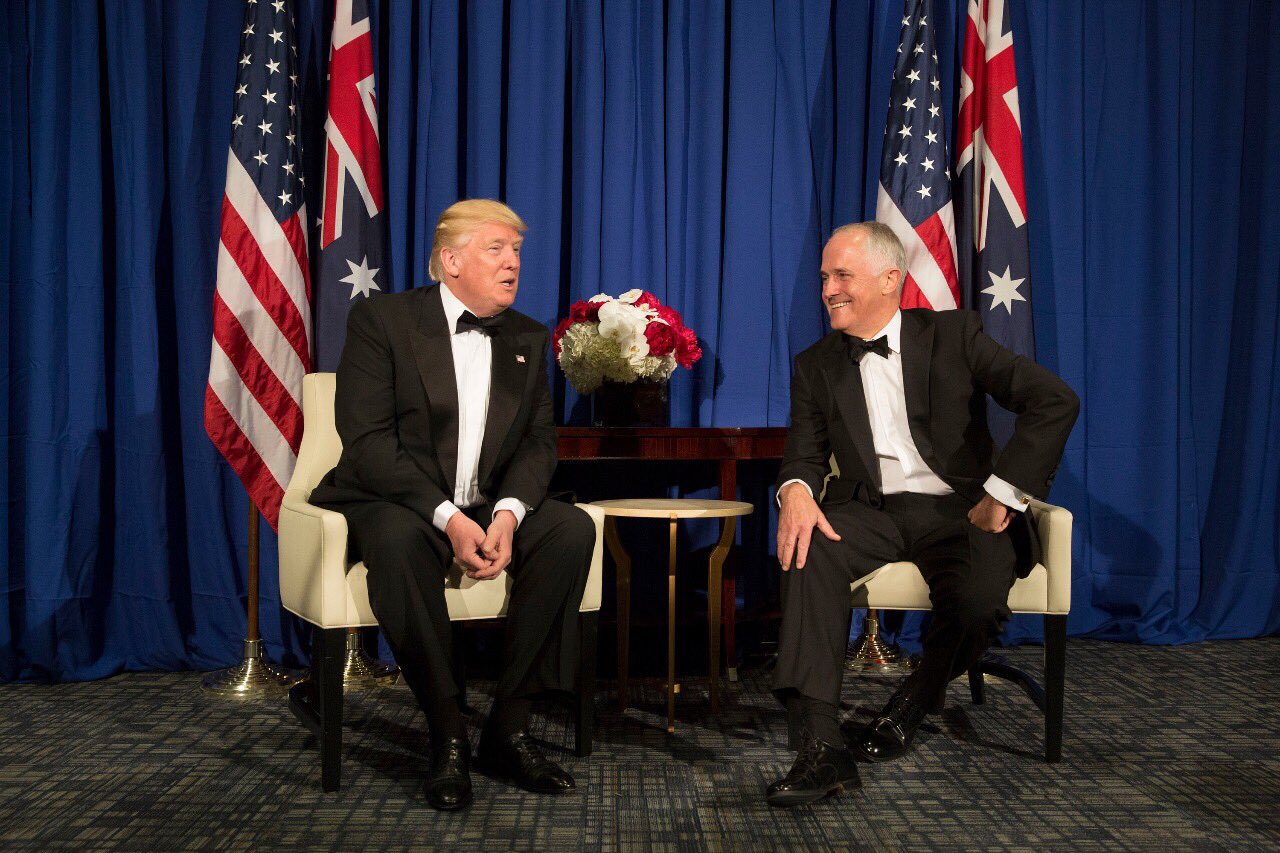 All of life, it would seem, becomes caught up in ways of speaking "in a world where spin and superficiality has far too much to say" (to quote the PM's valedictory tweet on the death of Mark Colvin). Well yes. And the question is not whether but how spin and superficiality are to be overcome with genuine political discourse and political education. These timely words come back to haunt the Australian Prime Minister in a political context this is not only dominated by spin and superficiality, but by his own recent political "success" when he met the US President. How is it that he and the US leader can get away with mouthing the view that the US with their Australian military associates actually WON the war in Vietnam? How did this view ever escape exposure as "spin and superficiality"? How is it that this "fake news" wasn't blown out of the water? Spin and superficiality indeed, Prime Minister! The Prime Minister's Personal Assistants need to stop trying to make the Twitter page so pretty and instead concentrate on giving historically accurate
and truthful

advice!
And here's the thing: the launch of the PM's "selfie" with the US President, and the management of his Twitter account was the goal at one point and its "success" simply meant anything and everything else had to be of subsidiary importance. Did Rupert Murdoch's Australian-wide tabloid  The Australian feature this "fake news" as news? Is anyone going to inform the thousands of Vietnamese boat people who came to these shores that they were mistaken, that the war had been won by the US and its allies? Did it have to take a former and much respected diplomat, the one-time Australian Ambassador to the United Nations (1992-1997), to tell the PM of his egregious error of fact? And dare we ask whether the record been corrected with the Americans? Are we to conclude that it would simply be spin and superficiality if it were corrected? (Alternative facts, Prime Minister?)
It is certainly not just the Trump administration that has deep troubles with itself. There is indeed much here that requires ongoing and sustained analysis. In closing I list three matter that Nurturing Justice should seek to discuss in upcoming posts.
The success ethic, social media communication, schooling and the political education of children!
How has political representation been transformed by the "success" ethic? How should Parliamentary representation, as work, be viewed in relation to "careers"? What has the tendency in Parliamentary democracies to make elected representation into a career, meant for careers in the public service and for the diplomatic service in particular?
How has the "reinvention of Government" according to neo-liberal criteria since the 1980s and the privatisation of State services meant for the State crafting development and the respect for citizenship as an integral part of accountability of public governance.
To repeat: has not the US President endorsed a use of Twitter to suggest that political "success" is within the reach of any aspiring citizen – whatever the goal may be? What goals may these be?
BCW 18.5.17